I Don't Know Why

There once was a poet who swallowed an ad –
Don't discard houseplants when aphids prey,
let ladybugs devour infestation away!
Insect battalions rustled her leaves
bugs leisurely bivouacked stems.
She ordered annihilation –
no thought of making nice.
But released to living-room lushness
amour was all ladybugs sought.
They coupled on the rug, they coupled
on the chair, they coupled on-the-wing
and everywhere, although the poet
pointed to her plants and stamped her feet.
The place was aphid paradise without relief.
It's hard to find a moral let alone a happy end
but pause to think how cure can bug you
worse than chance's fickle bite
and wanton copulation while so full of elation
is unlikely to make things right.
by
David Elsasser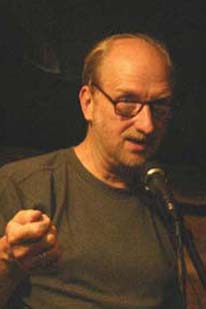 Credit: Su Polo
David Elsasser
co-hosts the weekly Saturns Series poetry reading in New York City. His forthcoming chapbook
Last Call
(Poets Wear Prada, Fall 2008) celebrates his generation's present moment of deliberation.
© Copyright David Elsasser 2008